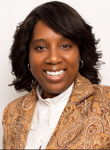 Ms. Thea Furbert, Chairwoman
Thea became Chairwoman of the Board of Directors in January 2012.Thea is the mother of Cire' who was diagnosed with autism in 2000. Feeling the need to form an organisation that would bring about awareness in Autism, Thea along with another mother, Tricia Kristoff, founded their first Autism Charity (BASE) in February 2001. Thea held the posts of PR Officer for 6 years and then President during her last year with BASE. Being an avid advocate for autism services in Bermuda for over 10 years, in 2006 with the help of Tricia and sister Erica Smith, she co-founded Tomorrow's Voices. Her dream of parents having quality, direct hands-on therapy for their children with autism became a reality with the opening of the centre in October 2007. Since opening, Thea has seen Bermuda benefit from expert trainings and direct observations, which have directly benefited Bermuda's children with Autism. Thea has a Bachelors Degree in Graphic Design from Howard University and held the post of Manager, Creative Services with the Department of Tourism for 5 years. Leaving Tourism in 2006 Thea fulfilled another one of her dreams by opening her own graphic design firm, TAF Designs. Thea also continues to strengthen her abilities in behavior analysis and in December 2010 she received her Graduate Certificate in Applied Behavior Analysis from the University of North Texas. With this Certificate and the vast knowledge of ABA course work Thea continues her studies to pursue her aspirations of becoming a Board Certified Behavior Analyst.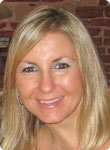 Ms. Tricia Kristoff
Tricia is a mother to 3 teenage boys with Autism. When her children were diagnosed in 2000, she began a quest to learn as much as possible about Autism and how to help. After finding no support in Bermuda, and meeting two other moms whose children had also just been diagnosed, she assisted those moms with starting BASE (Bermuda Autism Support and Education Society) in 2001. Tricia was then President of BASE for 6 years and helped to bring over 50 seminars, workshops, and hands on training to Bermuda, for parents and professionals alike. In 2007 she assisted Thea Furbert and Erica Smith in realising their dream of having somewhere in Bermuda where families could turn to for direct assistance with their children with Autism. That dream was Tomorrow's Voices! Tricia moved back to Canada in 2008 with her children, but still has a role on the Executive Committee of Tomorrow's Voices as a Director and is very pleased on how that dream of 3 women 10 years ago, is now a thriving reality benefiting so many children in Bermuda. Tricia is now President of the Autism Ontario Hamilton Wentworth Chapter in Hamilton Ontario, and is continuing to assist families and professionals who deal with Autism. She is one of the founders of Tomorrow's Voices having been a board member since June 2007.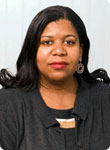 Mrs. Erica Smith, Deputy Chair
Erica was involved with the development of Tomorrow's Voices from its beginnings. She was part of the project team responsible for bringing this dream into reality. She has been a member of the board of Tomorrow's Voices since June 2007 and was Chair from March 2008 until December 2011. She has recently been elected as Deputy Chair. Erica is the the Executive Director of the Bermuda Economic Development Corporation (BEDC). Former leadership roles include the Director of the Economic Empowerment Zones Agency; the Director of Sustainable Development; Assistant Director of Planning; and National Director of the Duke of Edinburgh's Award in Bermuda. She has also run her own consultancy firm ERF Designs. Having been educated at Boston University, Howard University, and the University of Pennsylvania, she currently holds a Bachelors Degree in Architecture, a Masters Degree in City Planning, a Certificate in Urban Design, a Diploma in Supervision and Management, and is a Certified Urban Planner. She is an International Exchange Alumni of the US Department of State's Bureau of Educational and Cultural Affairs and an alumni mentor with the Cherie Blair Foundation mentoring entrepreneurs globally. When not working with the local business sector, Erica is very engaged in the community. She is passionate about giving back to her country and feels her work with Tomorrow's Voices is necessary divine work that is needed. She is committed to her role of lobbying for services, resources, and funding for children with autism specifically, as well as generally for those with special needs and other disabilities.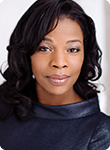 Dr. Terrylynn Tyrell
Terrylynn was the Senior Director, Government Affairs and Policy for Voices for America's Children in Washington, DC providing strategic guidance for federal advocacy efforts in the area of early care and education. Prior to joining Voices, Terrylynn served as the Director of Education Policy for Advocates for Children and Youth in Maryland. Terrylynn has been committed to education reform and serving the community throughout her career. She serves on various national, state and local taskforces and workgroups on child care and education issues. She recently was a captain in the Obama for America campaign in Baltimore. Terrylynn earned the degrees of Doctor of Education from Johns Hopkins University and a Master of Education and Counseling from McGill University. She has a Bachelors of Science in Psychology from University of East London. She has been a board member of Tomorrow's Voices since December 2009.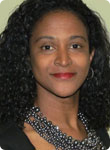 Mrs. Carmen Phillips
Carmen joined Tomorrow's Voices as a Board Member in 2008. Having an in-law's child diagnosed with autism, she was catalysed to get involved in Bermuda. She felt she needed to use her voice and resources to raise the awareness of this disorder. She is the owner of Demco and Demco to Go and continues to serve on the board of Tomorrow's Voices because she passionaltely cares for children with disabilities.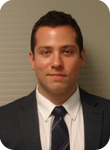 Mr. Joseph Cianflone
A past volunteer in Tomorrow's Voices Saturday Social Skill Group, Joe's continued interest in organization's mission led to his board nomination in 2012. A native Montrealer, Joe graduated from Harvard College in 2007 with a joint-degree in Economics and Mathematics, cum laude with High Honors, as well as an MSc in Financial Economics from Oxford University's Saïd School of Business in 2008, where he was elected class president and named to the Dean's List. After internships at Goldman Sachs, Blackstone, and numerous Boston-area hedge funds, Joe worked from 2008 through 2013 at Orbis Investment Management, a Bermuda-based contrarian value asset manager. In 2013, Joe returned to Montreal and currently manages a portfolio at one of Canada's largest asset managers, PSP Investments. In addition to his work with Tomorrow's Voices, Joe serves as a director of the Harvard Club of Quebec, Co-President of the UCC Old Boys Association of Montreal, and Chairman of the Board for Rentlogic Corporation, LLC.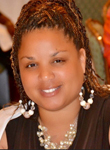 Ms. Angela Tota-Francis, Secretary
Angela is an educator and joined Tomorrow's Voices as a board member.Angela is an experienced Classroom Teacher with a demonstrated history of working in education and leadership with a commitment to student and school success. She is a strong education professional with a MA Organizational Management degree focused in Educational Leadership and Administration from Endicott College. She is an accomplished, innovative educator, facilitator and leader who has a passion for education especially in the are of Mathematics.

Mrs. Robyn Bardgett
Robyn joined Tomorrow's Voices as a board member in April 2013. Robyn is a Media Communications Specialist with a fantastic eye for detail and a knack for and love of all things grammatical. She has risen from the fast-paced ranks of a busy news office to the challenging role as a sub editor at a lively publishing company. She currently works as a freelance writer and editor.

Mr. Larry Williams
Larry joined Tomorrow's Voices as a board member in January 2014. Larry is currently the Assistant Director Development Management with the Bermuda Government's Department of Planning having taken up this position for a second time when he returned to the department in September 2013. Larry oversees the Development Management Section of the Department of Planning which includes, Front Desk operation and Enforcement.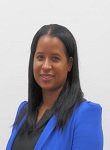 Mrs. LaKeitha Cunningham
LaKeitha Cunningham is a Human Resources professional with over 10 years' experience in her field of expertise. Prior to her career in HR, LaKeitha worked with middle and high school-aged children with behavioral challenges. The opportunity to work with and assist children has always remained a personal passion of hers, which is why when the chance arose to join the Board of Tomorrow's Voices she accepted without hesitation. LaKeitha is a wife, a mother of two, and a friend to many who enjoys spending time with family and friends in her free time.
Mrs. April Augustus
April Augustus moved to Bermuda from the Bronx, New York in 2017. April has a Bachelor's degree in Criminal Justice from John Jay College of Criminal Justice, and also holds a Master's degree in Organizational Leadership from Mercy College. April worked for several years as a Program Director running homeless shelters in the Bronx and Manhattan. She has experience working in the field of mental health, sexual assault, substance abuse, domestic violence, crisis intervention, and child abuse. April is a great advocate for assisting those that have no voice and has a great passion for working with children.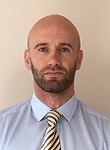 Mr. David Middleton, Treasurer
David joined Tomorrow's Voices as a Board Member and Treasurer in 2016. He graduated from the University of Bath with a BSc in Economics and has over a decade of experience in various financial services positions, both in Bermuda and overseas. He is a Chartered Accountant and CFA Charterholder. David joined the board so that he could use his experience and knowledge to assist the autism community in Bermuda and is passionate about supporting Tomorrow's Voices to reach their goals.