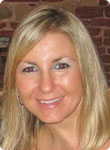 Tricia is a wife and mother to 3 teenage boys with Autism. When her children were diagnosed in 2000, she began a quest to learn as much as possible about Autism and how to help. After finding no support in Bermuda, and meeting two other moms whose children had also just been diagnosed, she assisted those moms with starting BASE (Bermuda Autism Support and Education Society) in 2001.
Tricia was then President of BASE for 6 years and helped to bring over 50 seminars, workshops, and hands on training to Bermuda, for parents and professionals alike. In 2007 she assisted Thea Furbert and Erica Smith in realising their dream of having somewhere in Bermuda where families could turn to for direct assistance with their children with Autism.
That dream was Tomorrow's Voices! Tricia moved back to Canada in 2008 with her children, but still has a role on the Board of Tomorrow's Voices as a Director and is very pleased on how that dream of 3 women only a few years ago, is now a thriving reality benefiting so many children in Bermuda.
Tricia is now President of the Autism Ontario Hamilton Wentworth Chapter in Hamilton Ontario, and is continuing to assist families and professionals who deal with Autism. She is one of the founders of Tomorrow's Voices having been a board member since June 2007.