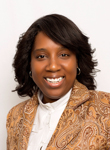 Thea became Chairwoman of the Board of Directors in January 2012. She is the mother of one child who was diagnosed with autism in 2000.
Feeling the need to form an organisation that would bring about awareness in Autism, Thea along with another mother Tricia Simons (Crow) founded another Autism charity in February 2001.
During her time with the organisation Thea held the posts of PR Officer for 6 years and then President during her last year with the orginization.Being an avid advocate for autism services in the Bermuda community for over ten years, in 2006 with the help of Mrs Tricia Simons (Crow) and sister, Erica Smith, Thea co-founded Tomorrow's Voices - Bermuda Autism Early Intervention Centre.
Her dream of parents having quality, direct hands-on therapy for their children with autism became a reality with the opening of Tomorrow's Voices doors in October 2007. Since opening the Centre Thea has seen the Bermuda community benefit from expert trainings and direct observations, which have directly benefited Bermuda's children with Autism.
Thea has a Bachelors Degree in Graphic Design from Howard University and held the post of Manager, Creative Services with the Department of Tourism for five years. Leaving Tourism in 2006 Thea fulfilled another one of her dreams by opening her own graphic design company 'TAF Designs'.
Thea also continues to strengthen her abilities in the Behavior analysis world and in December 2010 she received her Graduate Certificate in Applied Behavior Analysis from the University of North Texas. With this Certificate and the vast knowledge of ABA course work Thea continues to be a great resource for thse affected by autism in the Bermuda community.