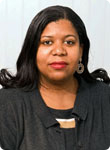 Erica was involved with the development of Tomorrow's Voices from its beginnings. She was part of the project team responsible for bringing this dream into reality. She has been a member of the board of Tomorrow's Voices since June 2007 and took over the Chairmanship in March 2008.

When she is not volunteering her time with Tomorrow's Voices, Erica is the Director of the Economic Empowerment Zones Agency (EEZA) under the Bermuda Small Business Development Corporation and is responsible for establishing empowerment zones throughout Bermuda to bring about transformation in depressed areas. Prior to this she ran her own consultancy firm, ERF Designs, which provided consultancy services in planning, architecture, urban design and sustainable development.

She previously held the role of Director of Sustainable Development at the Cabinet Office responsible for developing and implementing Government's first sustainable development strategy. She was also the Assistant Director of Planning for the Department of Planning, where she was responsible for the land use, zoning and development policies of Bermuda.

Erica brings extensive experience in organizational management, policy development, business continuity and risk management to any endeavour she undertakes.
She has served as a Council member on the Duke of Edinburgh's Award in Bermuda, President of the Bermuda Amateur Softball Association, and President of the Youth Softball League, in addition to various roles on other boards and committees.

She is passionate about giving back to her country and feels her work with Tomorrow's Voices is necessary divine work that is needed. She is committed to her role of lobbying for services, resources, and funding for children with autism specifically, as well as generally for those with special needs and other disabilities.